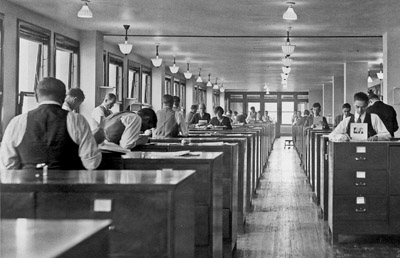 Fingerprint Clerks in the Technical Section of the FBI's Identification Division in 1930. The job title Fingerprint Clerk was later changed to Fingerprint Examiner.

1940s
By the end of World War II, most American fingerprints experts agreed there was no scientific basis for a minimum number of corresponding minutiae to determine an "identification" and the twelve point rule was dropped from the FBI publication, "The Science of Fingerprints."
By 1946, the FBI had processed over 100 million fingerprint cards in files maintained manually. In 1947, the FBI's fingerprint repository was moved from the Washington DC Armory Building to a new building at 2nd and D Streets Southwest in Washington, DC.
With the introduction of automated fingerprint identification system (AFIS) technology, the files were later split into computerized criminal files and manually maintained civil files. Many of the manual files were duplicates though, the records actually represented somewhere in the neighborhood of 25 to 30 million criminals, and an unknown number (tens of millions) of individuals represented in the civil files.
1960s
In 1963, the FBI's Latent Print Unit completed 9,668 latent print cases from local, state and federal American law enforcement, including 76,309 specimens (evidence items) for latent print examination. The Latent Print Unit identified suspects in 795 of the cases.

As of 1 May 1964, the FBI's Identification Division had more than 170 million fingerprint records (170,681,473 records), including almost 45 million criminal fingerprint records (44,926,750 criminal fingerprint records).
1973
The International Association for Identification Standardization Committee authored a resolution stating that each identification is unique and no valid basis exists to require a minimum number of matching points in two friction ridge impressions to establish a positive identification. The resolution was approved by members at the 1973 annual IAI conference.
1974 - The Fingerprint Society

In 1974, four employees of the Hertfordshire (United Kingdom) Fingerprint Bureau contacted fingerprint experts throughout the UK and began organization of that country's first professional fingerprint organization, the National Society of Fingerprint Officers. The organization initially consisted of only UK experts, but quickly expanded to international scope and was renamed The Fingerprint Society in 1977. The initials F.F.S. behind a fingerprint expert's name indicates they were recognized as a Fellow of the Fingerprint Society. The Society hosts annual educational conferences with speakers and delegates attending from many countries. In 2017, The Fingerprint Society merged with The Chartered Society of Forensic Sciences (CSFS) and has since been known as the CSFS Fingerprint Division.
1977

On 1 August 1977 at New Orleans, Louisiana, members attending the 62nd Annual Conference of the International Association for Identification (IAI) voted to establish the world's first certification program for fingerprint experts. Since 1977, the IAI's Latent Print Certification Board has tested thousands of applicants, and periodically proficiency tests all IAI Certified Latent Print Examiners (CLPEs).
Contrary to assertions by some forensic science critics that fingerprint experts claim they never make erroneous identifications, the Latent Print Certification program active since 1977 has specifically recognized such mistakes sometimes occur and must be addressed.
During the past four decades, CLPE status has become a prerequisite for journeyman fingerprint expert positions in many US state and federal government forensic laboratories. IAI CLPE status is considered by many identification professionals to be a measurement of excellence.
1995
At the International Symposium on Latent Fingerprint Detection and Identification, conducted by the Israeli National Police Agency, at Neurim, Israel, June, 1995, the Neurim Declaration was issued. The declaration, (authored by Pierre Margot and Ed German), states "No scientific basis exists for requiring that a pre-determined minimum number of friction ridge features must be present in two impression in order to establish a positive identification." The declaration was unanimously approved by all present, and later, signed by 28 persons from the following 11 countries: Australia, Canada, France, Holland, Hungary, Israel, New Zealand, Sweden, Switzerland, United Kingdom, and United States.

2012

INTERPOL's Automated Fingerprint Identification System repository exceeds 150,000 sets of fingerprints for important international criminal records from 190 member countries. Over 170 countries have 24 x 7 interface ability with INTERPOL expert fingerprint services.



2015 - The International Association for Identification celebrated it's 100th Anniversary



2020 - America's Largest Databases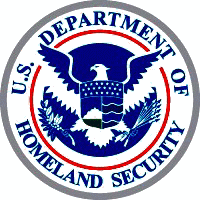 The Department of Homeland Security's Office of Biometric Identity Management (OBIM was formerly US-VISIT), contains over 120 million persons' fingerprints, many in the form of two-finger records. The US Visit Program has been migrating from two flat (not rolled) fingerprints to ten flat fingerprints since 2007. "Fast capture" technology currently enables the recording of ten simultaneous fingerprint impressions in as little as 15 seconds per person.

As of July 2018, the FBI's Next Generation Identification (NGI) conducts more than 300,000 tenprint record searches per day against more than 140 million computerized fingerprint records (both criminal and civil applicant records). The 300,000 daily fingerprint searches support 18,000 law enforcement agencies and 16,000 non-law enforcement agencies7. At 70% more accurate that the FBI's previous version of automated latent print technology, NGI is the FBI's most valuable service to American law enforcement, providing accurate and rapid fingerprint identification support.

FBI civil fingerprint files in NGI (primarily including federal employees and federal employment applicants) have become searchable by all US law enforcement agencies in recent years. Many enlisted military service member fingerprint cards received after 1990, and most (officer, enlisted and civilian) military-related fingerprint cards received after 19 May 2000, have been computerized and are searchable.

The FBI is continuing to expand their automated identification activities to include other biometrics such as palm, face, and iris. Direct face search capabilities in NGI are a reality for some US law enforcement agencies, and all others can submit faces to CBI CJIS' Face Services Unit by opening collaborative investigations through their supporting FBI offices.

Every state in the America, as well as many large cities, have their own AFIS databases, each with a subset of fingerprint records which are not stored in any other database. Palmprints are also stored and searched in many of these databases. Law enforcement fingerprint interface standards are important to enable sharing records and reciprocal searches to identify criminals.

International Sharing

Many European nations currently leverage multiple fingerprint information sharing operations, including the following: Schengen Information System (SIS); Visa Information System (VIS); European Dactyloscopy (EURODAC); and Europol. Additionally, a biometric-based Entry Exit System (EES) is in planning stages. Many other countries exchanges searches/fingerprint records in a similar manner as Europe, with automated and non-automated interfaces existing in accordance with national/international privacy laws and the urgency/importance of such searches.



2021 - World's Largest Database
The
Unique Identification Authority of India is the world's largest fingerprint (and largest multi-modal biometric) system using fingerprint, face and iris biometric records. India's Unique Identification project is also known as Aadhaar, a word meaning "the foundation" in several Indian languages. Aadhaar is a voluntary program, with the goal of providing reliable national identification documents to most of India's

estimated

1.25 billion residents.

With a biometric database many times larger than any other in the world, Aadhaar's ability to leverage automated fingerprint and iris modalities (and potentially automated face recognition) enables rapid and reliable automated searching and identification impossible to accomplish with fingerprint technology alone, especially when searching children and elderly residents' fingerprints (children are fingerprinted and photographed as young as age 5). As of January 2020, the Authority has issued more than 1.25 billion (more than 125 crore) Aadhaar numbers.
Like most attempts to document history, this page strives to balance what happened first with what matters. The result does not mean this fingerprint history page (or any other historical account) is complete or entirely accurate. This page is maintained by an American fingerprint expert, biased by English language scientific journals and historical publications. Other countries' experts (especially from non-English language countries) may have completed important fingerprint-related scientific accomplishments before the above dates. Please email recommended changes and citations for those modifications to ed "at" onin.com.
Science is a set of provisional explanations, also known as hypotheses, which are updated as new evidence becomes available. For example, the 12-point rule for identifying fingerprints utilized in America during the early 1900s was abandoned by the FBI in the 1940s when it was realized 12 poor-quality points having relatively low specificity were less rare (had lower specificity) for "identification" than fewer very clear points having relatively rare shapes and unit relationships.
Nowadays, friction ridge science is improving to attempt to express subjective opinions with greater accuracy (not positive identification)... until evidence supports the next advancement, perhaps a well-validated algorithm stating likelihood ratios.
FBI, The CJIS Link; vol. 4, no. 23, page 10, by US Department of Justice, Federal Bureau of Investigation, Criminal Justice Information Services Division, Fall 2000.
Jenkins, J. J. (1902). National Bureau of Criminal Identification (No. 429). U.S. House of Representatives, Committee on the Judiciary.

1 Moore, Greg; Some of the above wording is credited to Greg Moore, from his previous fingerprint history page at www.brawleyonline.com/consult/history.htm (no longer online).
Von Minden, David L.; provided input for this page involving typos his students kept cutting and pasting into their homework.
2 Interpol, "General Position on Fingerprint Evidence," by the Interpol European Expert Group on Fingerprint Identification (accessed March 2010 at www.interpol.int).

3
Coulier, P.-J. Les vapeurs d'iode employees comme moyen de reconnaitre l'alteration des ecritures. In L'Annee scientiJique et industrielle; Figuier, L. Ed.; Hachette, 1863; 8, pp. 157-160 at
http://gallica.bnf.fr/ark:/12148/bpt6k7326j
(as of March 2010).
4 Margot, Pierre and Quinche, Nicolas, "Coulier, Paul-Jean (1824-1890): A Precursor in the History of Fingermark Detection and Their Potential Use for Identifying Their Source (1863)", Journal of forensic identification, 60 (2), March-April 2010, pp. 129-134, (published by the International Association for Identification).
5 As of 2016, the term positive identification (meaning absolute certainty) has been replaced in reports and testimony by most agencies/experts with more accurate terminology, including variations of wording such as the following:
Examination and comparison of similarities and differences between the impressions resulted in the opinion there is a much greater support for the impressions originating from the same source than there is for them originating from different sources.
A related 2014 paper titled "Individualization is dead, long live individualization! Reforms of reporting practices for fingerprint analysis in the United States" by Simon Cole, Professor at University of California, Irvine is linked here.
6
Herschel information is from a Fingerprint Identification presentation by T. Dickerson Cook at the annual meeting of the Texas Division, International Association for Identification, at Midland, Texas on 9 August 1954 (documented in Identification News, April 1964, pp. 5-10).

7
Includes details from an August 2018 presentation by FBI Biometric Services/NGI Section Chief William G. McKinsey at the International Association for Identification's annual educational conference.



8

William and Will West images courtesy of Joshua L. Connelly, CLPE, whose research into fingerprint history archives continues to enlighten the friction ridge community.

9 Identification. (1896, May 16). Australian Town and Country Journal (Sydney, NSW : 1870 - 1907), p. 28. Retrieved April 2, 2020, from http://nla.gov.au/nla.news-article71245769