Webservant (Member)
Moderator
Username: Member

Post Number: 300
Registered: 03-1997

| | |
| --- | --- |
| Posted on Wednesday, June 04, 2008 - 07:30 pm: | |
---
Short Answer: Yes. It may suffice, but most fingerprint experts prefer to compare impressions instead of an image of friction ridges.

Long Answer: If you are seeking to make comparisons between a photograph of an unknown hand and a known person's hand, then using a scanner (or a camera) to create images of the person's hand may be suitable.

However, if you are seeking to make comparisons between a questioned impression (deposited on an object or surface) and the friction ridge skin on a person's hand, then inked prints, live scan "prints" or other known contact impressions will be superior.

If using a normal scanner to image your hand were better than taking regular inked prints, then police would have switched to photographing suspects' hands pressed against plates of glass many decades ago (long before scanners existed).

In general, it is better to compare contact impressions to contact impressions. There is new technology that creates excellent images of fingers using multiple cameras simultaneously (sometimes with the assistance of structured light mapping), but that technology has yet to be well accepted in the forensic community because of the difficulties in making non-contact images mimic contact impressions (and almost all legacy data fingerprint databases in existence consist of contact impressions).

If you would like to mimic some of what an optical live scan system does when it records the refraction difference between a platen and the area in contact with a finger or palm, create a grayscale image of your finger on a scanner.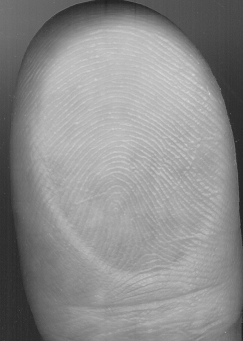 Notice that the ridges near the bottom of the finger change color (dark to light)
where contact with the glass platen stops. Click on the above 300 ppi image
to see a larger, 600 ppi image.



Next, use Photoshop or other software to reduce the brightness and increase the contrast.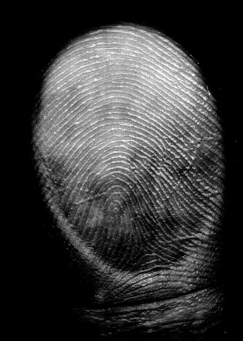 Here, the brightness has been decreased by a value of 40 and the brightness
increased by a value of 80 (your version of image processing software may
require different settings to create similar results). Click on the above 300 ppi
image to see a larger, 600 ppi image.


Of course, your crude enhancement will not be nearly as well defined as a fingerprint scanner. The national and international fingerprint image standards are 1000 ppi (preferred) or 500 ppi (what most older systems still use). And don't forget that your scanned finger will be a mirror-image reversal of a contact impression.

The above is from multiple references, including the article FBI Adopts Interim Policy Relative to "Minimum Image Quality Requirements for Live-Scan, Electronically Produced, Fingerprint Cards", Journal of Forensic Identification, Vol. 40, No. 6, Nov. 1990. FBI fingerprint image specifications for livescan can be seen at www.fbibiospecs.org and some relevant NIST fingerprint image specifications can be seen at www.itl.nist.gov. Standards relevant to fingerprint images for forensic examination can be seen at www.swgfast.org. Some relevant Interpol guidance can be seen at www.interpol.int